Monitor Share and NTFS Permissions and E-Mail Changes
Monitor Share and NTFS Permissions and E-Mail Changes
Recently I set out to find a way to get PowerShell to monitor NTFS and File permissions on a folder and file share. I wanted to know when permissions changed, how they changed (Read permission changed to Write permission), keep historical permission data I can reference, and lastly e-mail me the changes when they changed.
To keep historical data I made it create a new folder for each day it runs. The folder name is the date which is formatted as MMddyyyy. The next day it will run it will import the previous days results and compare them to the results of that day's.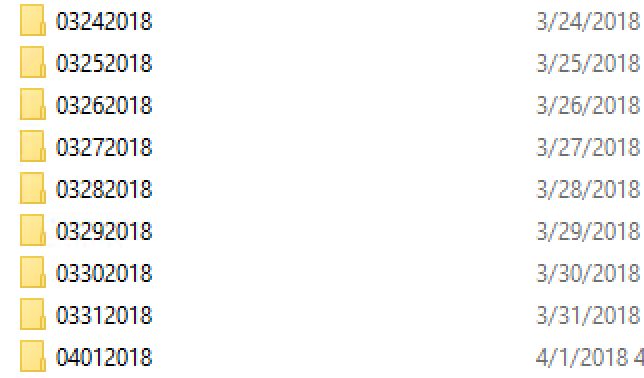 Each time the script runs it will append any permission changes to the results CSV file instead of overwriting any previous results. This allows you to get an overview what has changed and when, that will span more than a single day. The CSV file also shows you what permission changed and what it changed to in the From and To column. The Account column will show you which account the permission changed for.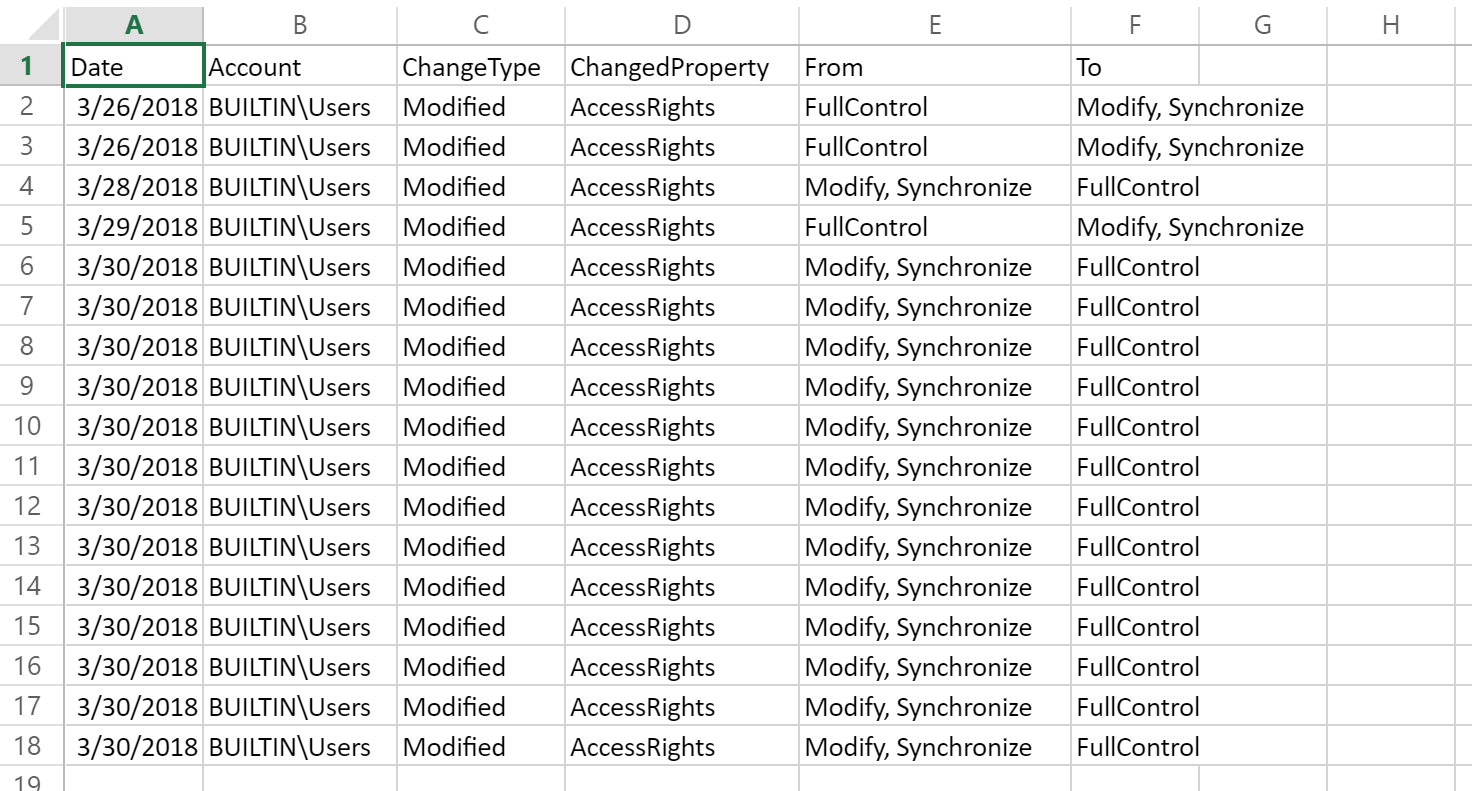 When the script sees that permissions have changed for either NTFS or Share it will e-mail you and the attachment like the one pictured above. If both NTFS and Share permissions changed it will e-mail you both attachments, if only one (NTFS or Share) changed it will only e-mail you the one that changed.
In my example I had it send mail using Office 365 by specifying my smtp server as smtp.office365.com in the script. To send mail we used the Send-MailMessage cmdlet. Since Office 365 requires authentication the script will create a credential PSObject and export it, this will allow it to import the credential object the next time it runs to authenticate to Office 365 without it being stored in plain text. 

When the script runs the console will show what it is doing each step of the way. This is helpful if you need to troubleshoot an issue when setting it up in your environment.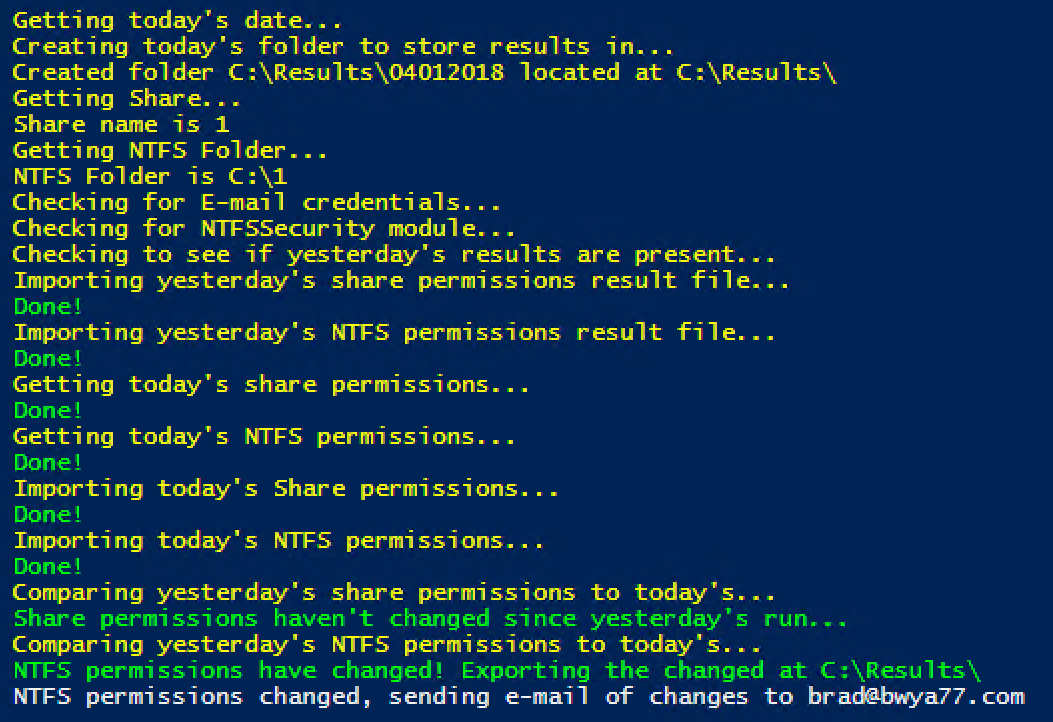 For best results I recommend setting up a scheduled task that will run this script daily. If you want to monitor multiple folders/shares then set up a separate scheduled task for each and don't forget to change the path where the results are stored and make it different than where other ones are stored so they do not overwrite one another. 
The script does require the NTFSSecurity module which you can install by launching PowerShell and running

Install-Module

-Name

NTFSSecurity
Script:
1

2

3

4

5

6

7

8

9

10

11

12

13

14

15

16

17

18

19

20

21

22

23

24

25

26

27

28

29

30

31

32

33

34

35

36

37

38

39

40

41

42

43

44

45

46

47

48

49

50

51

52

53

54

55

56

57

58

59

60

61

62

63

64

65

66

67

68

69

70

71

72

73

74

75

76

77

78

79

80

81

82

83

84

85

86

87

88

89

90

91

92

93

94

95

96

97

98

99

100

101

102

103

104

105

106

107

108

109

110

111

112

113

114

115

116

117

118

119

120

121

122

123

124

125

126

127

128

129

130

131

132

133

134

135

136

137

138

139

140

141

142

143

144

145

146

147

148

149

150

151

152

153

154

155

156

157

158

159

160

161

162

163

164

165

166

167

168

169

170

171

172

173

174

175

176

177

178

179

180

181

182

183

184

185

186

187

188

189

190

191

192

193

194

195

196

197

198

199

200

201

202

203

204

205

206

207

208

209

210

211

212

213

214

215

216

217

218

219

220

221

222

223

224

225

226

227

228

229

230

231

232

233

234

235

236

237

238

239

240

241

242

243

244

245

246

247

248

249

250

251

252

253

254

255

256

257

258

259

260

261

262

263

264

265

266

267

268

269

270

271

272

273

274

275

276

277

278

279

280

===========================================================================

Created with: SAPIEN Technologies, Inc., PowerShell Studio 2018 v5.5.150

Created on: 3/16/2018 10:33 PM

Created by: Bradley Wyatt

===========================================================================

This script is best ran as a scheduled task set daily. It will monitor a share and a file for NTFS and Share permissions.

Each day it is ran it will check to see if it has ran the day previously

If it has it will run again, compare todays NTFS and Share permissions to yesterday's and export to a CSV file what has changed

If only one item changed (NTFS and not shared for example) it will export the NTFS changes to the results file and

in the folder for today it will add a log text file letting you know that share permissions did not change from the previous day

Each day it runs it will create a folder with the date formated as MMddyyyy

The results file will also be formatted with MMddyyyy

This file requires the NTFSSecurity module which can be installed by running Install-Module -Name NTFSSecurity

The changes for both NTFS and Share will continusly be added to a single results csv. From there you can see what changed each day

that there was a change. It will not create a new file everytime

Line 39: Creates a variable that will be the folder name of that days results.

Line 46: The location where the results will be stored

Line 52: The share it will monitor permissions for

Line 58: The folder it will monitor NTFS permissions for

Line 67: The person the results will be email to

Line 69: The email the results are emailed from

Line 71: The SMTP server it will send through

Write-Host

"Getting today's date..."

-ForegroundColor

Yellow

$ResultsFolderName

=

(

(

get-date

)

.

ToString

(

"MMddyyyy"

)

)

#CSV path where the results will be stored

#Creates todays folder to store results in

Write-Host

"Creating today's folder to store results in..."

-ForegroundColor

Yellow

$TodayResultFolder

=

New-Item

-ItemType

Directory

(

$CSVPath

+

$ResultsFolderName

)

-ErrorAction

SilentlyContinue

Write-Host

"Created folder $TodayResultFolder located at $CSVPath"

-ForegroundColor

Yellow

#The share name you want to monitor share permissions on

Write-Host

"Getting Share..."

-ForegroundColor

Yellow

Write-Host

"Share name is $ShareName"

-ForegroundColor

Yellow

#The NTFS folder you want to monitor NTFS permissions on

Write-Host

"Getting NTFS Folder..."

-ForegroundColor

Yellow

Write-Host

"NTFS Folder is $NTFSFolder"

-ForegroundColor

Yellow

#Who to send the email of changes to

$From

=

'brad@bwya77.com'

$SMTPServer

=

'smtp.office365.com'

#Check for SMTP credentials

Write-Host

"Checking for E-mail credentials..."

-ForegroundColor

Yellow

$SMTPCred

=

Test-Path

(

$CSVPath

+

"\"

+

"filemonitor.cred"

)

#if no credentials are found then prompt the user for them and save them

If

(

$SMTPCred

-eq

$false

)

$Credential

=

Get-Credential

$Credential

|

Export-CliXml

-Path

(

$CSVPath

+

"\"

+

"filemonitor.cred"

)

#CSV file name used to track share permissions

$CSVShare

=

"share_permissions.csv"

#CSV file name used to track NTFS permissions

$CSVNTFS

=

"ntfs_permissions.csv"

#Check for the NTFSSecurity module which is required

Write-Host

"Checking for NTFSSecurity module..."

-ForegroundColor

Yellow

Import-Module

NTFSSecurity

-ErrorAction

SilentlyContinue

$ModCheck

=

Get-Module

|

Where-Object

{

$_

.

Name

-like

"NTFSSecurity"

}

Write-Host

"WARNING: NTFSSecurity module is not installed!

Please install it by running 'Install-Module -Name NTFSSecurity' "

-ForegroundColor

Red

function

Get-ChangeLog

(

$referenceObject

,

$differenceObject

,

$identifier

)

$props

=

$referenceObject

|

Get-Member

-MemberType

NoteProperty

|

Select-Object

-ExpandProperty

Name

$diff

=

Compare-Object

$referenceObject

$differenceObject

-Property

$props

-PassThru

|

$today

=

(

Get-Date

)

.

ToShortDateString

(

)

$modifications

=

(

$diff

|

Where-Object

Count

-eq

2

)

.

Group

|

Group-Object

$identifier

foreach

(

$modification

in

$modifications

)

#compare properties of each group

foreach

(

$prop

in

$props

)

if

(

$modification

.

Group

[

0

]

.

$prop

-ne

$modification

.

Group

[

1

]

.

$prop

)

$output

=

$modification

.

Group

|

Where-Object

{

$_

.

SideIndicator

-eq

'<='

}

|

Select-Object

(

Write-Output

Date

$identifier

ChangeType

ChangedProperty

From

To

)

$output

.

ChangeType

=

"Modified"

$output

.

ChangedProperty

=

$prop

$output

.

From

=

(

$modification

.

Group

|

Where-Object

{

$_

.

SideIndicator

-eq

'<='

}

)

.

$prop

$output

.

To

=

(

$modification

.

Group

|

Where-Object

{

$_

.

SideIndicator

-eq

'=>'

}

)

.

$prop

#capture removals and additions

$removalAdditions

=

$groupedDiff

=

(

$diff

|

Where-Object

Count

-eq

1

)

.

Group

|

Group-Object

$identifier

foreach

(

$removalAddition

in

$removalAdditions

)

$ht

.

Add

(

$identifier

,

$removalAddition

.

Name

)

$ht

.

Add

(

'ChangeType'

,

''

)

$ht

.

Add

(

'ChangedProperty'

,

''

)

if

(

$removalAddition

.

Group

.

SideIndicator

-eq

"=>"

)

$ht

.

ChangeType

=

'Removed'

New-Object

PSObject

-Property

$ht

Write-Host

"Checking to see if yesterday's results are present..."

-ForegroundColor

Yellow

If

(

(

Test-Path

-Path

(

$CSVPath

+

(

(

get-date

)

.

AddDays

(

-1

)

.

ToString

(

"MMddyyyy"

)

)

+

"\"

+

(

(

get-date

)

.

AddDays

(

-1

)

.

ToString

(

"MMddyyyy"

)

)

+

$CSVShare

)

)

-eq

$true

-and

(

Test-Path

-Path

(

$CSVPath

+

(

(

get-date

)

.

AddDays

(

-1

)

.

ToString

(

"MMddyyyy"

)

)

+

"\"

+

(

(

get-date

)

.

AddDays

(

-1

)

.

ToString

(

"MMddyyyy"

)

)

+

$CSVShare

)

)

-eq

$true

)

Write-Host

"Importing yesterday's share permissions result file..."

-ForegroundColor

Yellow

#Import the last ran Share permissions CSV to the shell

$YesterdaysShareCSV

=

Import-csv

(

$CSVPath

+

(

get-date

)

.

AddDays

(

-1

)

.

ToString

(

"MMddyyyy"

)

+

"\"

+

(

(

get-date

)

.

AddDays

(

-1

)

.

ToString

(

"MMddyyyy"

)

)

+

$CSVShare

)

Write-Host

"Done!"

-ForegroundColor

Green

Write-Host

"Importing yesterday's NTFS permissions result file..."

-ForegroundColor

Yellow

#Import last ran NTFS permissions csv to the shell

$YesterdaysNTFSCSV

=

Import-csv

(

$CSVPath

+

(

get-date

)

.

AddDays

(

-1

)

.

ToString

(

"MMddyyyy"

)

+

"\"

+

(

(

get-date

)

.

AddDays

(

-1

)

.

ToString

(

"MMddyyyy"

)

)

+

$CSVNTFS

)

Write-Host

"Done!"

-ForegroundColor

Green

Write-Host

"Getting today's share permissions..."

-ForegroundColor

Yellow

#Gather todays share permissions

$TodaysShareCSV

=

Get-SMBShareAccess

-Name

$ShareName

|

Select-Object

Name

,

AccountName

,

AccessControlType

,

AccessRight

|

Export-Csv

(

$CSVPath

+

(

(

get-date

)

.

ToString

(

"MMddyyyy"

)

)

+

"\"

+

(

(

get-date

)

.

ToString

(

"MMddyyyy"

)

)

+

$CSVShare

)

-NoTypeInformation

-Force

Write-Host

"Done!"

-ForegroundColor

Green

Write-Host

"Getting today's NTFS permissions..."

-ForegroundColor

Yellow

#Gather todays NTFS Permissions

$TodaysNTFSCSV

=

Get-NTFSAccess

-Path

$NTFSFolder

|

Select-Object

Account

,

AccessRights

,

AccessControlType

|

Export-Csv

(

$CSVPath

+

(

(

get-date

)

.

ToString

(

"MMddyyyy"

)

)

+

"\"

+

(

(

get-date

)

.

ToString

(

"MMddyyyy"

)

)

+

$CSVNTFS

)

-NoTypeInformation

-Force

Write-Host

"Done!"

-ForegroundColor

Green

Write-Host

"Importing today's Share permissions..."

-ForegroundColor

Yellow

#Import todays Share permissions

$TodaysShare

=

Import-csv

(

$CSVPath

+

(

(

get-date

)

.

ToString

(

"MMddyyyy"

)

)

+

"\"

+

(

(

get-date

)

.

ToString

(

"MMddyyyy"

)

)

+

$CSVShare

)

Write-Host

"Done!"

-ForegroundColor

Green

Write-Host

"Importing today's NTFS permissions..."

-ForegroundColor

Yellow

#Import todays NTFS permissions

$TodaysNFTS

=

Import-csv

(

$CSVPath

+

(

(

get-date

)

.

ToString

(

"MMddyyyy"

)

)

+

"\"

+

(

(

get-date

)

.

ToString

(

"MMddyyyy"

)

)

+

$CSVNTFS

)

Write-Host

"Done!"

-ForegroundColor

Green

Write-Host

"Comparing yesterday's share permissions to today's..."

-ForegroundColor

Yellow

#Compare yesterdays Share output to todays

$ShareChange

=

Get-ChangeLog

-differenceObject

$TodaysShare

-referenceObject

$YesterdaysShareCSV

(

'AccountName'

)

If

(

$ShareChange

-eq

$Null

)

Write-Host

"Share permissions haven't changed since yesterday's run..."

-ForegroundColor

Green

"No Share permissions have changed since yesterday's results"

|

Out-File

-FilePath

(

$CSVPath

+

(

(

get-date

)

.

ToString

(

"MMddyyyy"

)

)

+

"\"

+

"Sharelog.txt"

)

-Force

Write-Host

"Share permissions have changed! Exporting the changed at $CSVPath"

-ForegroundColor

Green

$ShareChange

|

Export-Csv

(

$CSVPath

+

"DifferenceShares.csv"

)

-NoTypeInformation

-Append

|

Out-Null

Write-Host

"Comparing yesterday's NTFS permissions to today's..."

-ForegroundColor

Yellow

#Compare yesterdays NTFS output to todays

$NTFSChange

=

Get-ChangeLog

-differenceObject

$TodaysNFTS

-referenceObject

$YesterdaysNTFSCSV

(

'Account'

)

If

(

$NTFSChange

-eq

$Null

)

Write-Host

"NTFS permissions haven't changed since yesterday's run..."

-ForegroundColor

Green

"No NTFS permissions have changed since yesterday's results"

|

Out-File

-FilePath

(

$CSVPath

+

(

(

get-date

)

.

ToString

(

"MMddyyyy"

)

)

+

"\"

+

"NTFSlog.txt"

)

-Force

Write-Host

"NTFS permissions have changed! Exporting the changed at $CSVPath"

-ForegroundColor

Green

$NTFSChange

|

Export-Csv

(

$CSVPath

+

"DifferenceNTFS.csv"

)

-NoTypeInformation

-Append

|

Out-Null

#IF both files changed, email both files

If

(

(

$var1

-eq

1

)

-and

(

$var2

-eq

1

)

)

Write-Host

"NTFS and Share permissions changed, sending e-mail of changes to $To"

-Subject

'Permission Monitor - NTFS + Share'

`

-Body

"NTFS and Share permissions changed for $ShareName and $NTFSFolder. Please see the attachment"

`

-SmtpServer

$SMTPServer

`

-Credential

(

Import-CliXml

-Path

(

$CSVPath

+

"\"

+

"filemonitor.cred"

)

)

`

-Attachments

(

$CSVPath

+

"\"

+

"DifferenceNTFS.csv"

)

,

(

$CSVPath

+

"\"

+

"DifferenceShares.csv"

)

#IF NTFS permissions but Share permissions did not change

ElseIf

(

(

$var1

-eq

0

)

-and

(

$var2

-eq

1

)

)

Write-Host

"NTFS permissions changed, sending e-mail of changes to $To"

-Subject

'Permission Monitor - NTFS Only'

`

-Body

"NTFS permissions changed for $NTFSFolder. Please see the attachment"

`

-SmtpServer

$SMTPServer

`

-Credential

(

Import-CliXml

-Path

(

$CSVPath

+

"\"

+

"filemonitor.cred"

)

)

`

-Attachments

(

$CSVPath

+

"\"

+

"DifferenceNTFS.csv"

)

ElseIf

(

(

$var1

-eq

1

)

-and

(

$var2

-eq

0

)

)

Write-Host

"Share permissions changed, sending e-mail of changes to $To"

-Subject

'Permission Monitor - Share Only'

`

-Body

"Share permissions changed for $ShareName. Please see the attachment"

`

-SmtpServer

$SMTPServer

`

-Credential

(

Import-CliXml

-Path

(

$CSVPath

+

"\"

+

"filemonitor.cred"

)

)

`

-Attachments

(

$CSVPath

+

"\"

+

"DifferenceShares.csv"

)

Write-Host

"No results from the previous day were found"

-ForegroundColor

Magenta

Write-Host

"Getting share permissions for today..."

-ForegroundColor

Yellow

#Gather todays share permissions

Get-SMBShareAccess

-Name

$ShareName

|

Select-Object

Name

,

AccountName

,

AccessControlType

,

AccessRight

|

Export-Csv

(

$CSVPath

+

(

(

get-date

)

.

ToString

(

"MMddyyyy"

)

)

+

"\"

+

(

(

get-date

)

.

ToString

(

"MMddyyyy"

)

)

+

$CSVShare

)

-NoTypeInformation

Write-Host

"Done!"

-ForegroundColor

Green

Write-Host

"Getting NTFS permissions for today..."

-ForegroundColor

Yellow

#Gather todays NTFS Permissions

Get-NTFSAccess

-Path

$NTFSFolder

|

Select-Object

Account

,

AccessRights

,

AccessControlType

|

Export-Csv

(

$CSVPath

+

(

(

get-date

)

.

ToString

(

"MMddyyyy"

)

)

+

"\"

+

(

(

get-date

)

.

ToString

(

"MMddyyyy"

)

)

+

$CSVNTFS

)

-NoTypeInformation

Write-Host

"Done!"

-ForegroundColor

Green