[Function] Export Report of Unused Office 365 Licenses Across Multiple Tenants or a Single Tenant Using Friendly License Names
[Function] Export Report of Unused Office 365 Licenses Across Multiple Tenants or a Single Tenant Using Friendly License Names
Even if a license is not assigned to an Exchange Online object does not mean it's not being charged back to the tenant. If you work for a MSP or IT Consultant you may want to audit your clients Office 365 tenant for any licenses that are not assigned so they are not paying for licenses that they do not need.
While looking up ways to accomplish this task I came across this script from GCITS. If you have never read any of GCITS's knowledge-base write ups I recommend you start following their blog posts as they have some of the best write ups, especially for MSP's, and IT Consultants. The problem with the script is that it exported the unused license count for all licenses including licenses that had zero unused licenses. It also exported the license SKU instead of converting it to a friendly name. If you have to give this report to someone who hasn't memorized all the SKU's, and what license it correlates to, then the report isn't as helpful as it could be. By converting it to it's proper friendly name you can easily remove the licenses since Microsoft and other resellers like Sherweb also don't display licenses in the portal by SKU.
I also wanted to make the script into a PowerShell Function instead of a flat script. This would allow me to save the function into my PowerShell profile, and also give it to others without having to modify anything in the script itself. The CSV output path would be a parameter instead of a set item in the script you would have to modify. It would also allow you to run it across a single tenant or all tenants using a switch parameter.
Using delegated administration in Office 365 you can quickly manage multiple tenants while only needing one login. This script will allow you to use delegated administration to get an unused license report across all your tenants or just a single tenant.
What You Need:
If you are running this across multiple tenants make sure you are a delegated admin on the tenants
PowerShell
The Script
If you just want to download and run the script without reading the inner-workings of it then feel free to scroll to the bottom of the page and copy and save the script.
Help
The Function we are creating is Get-UnusedLicenseReport. By saving this into my PowerShell profile I can call the function when launch PowerShell. The Function also comes with detailed Help.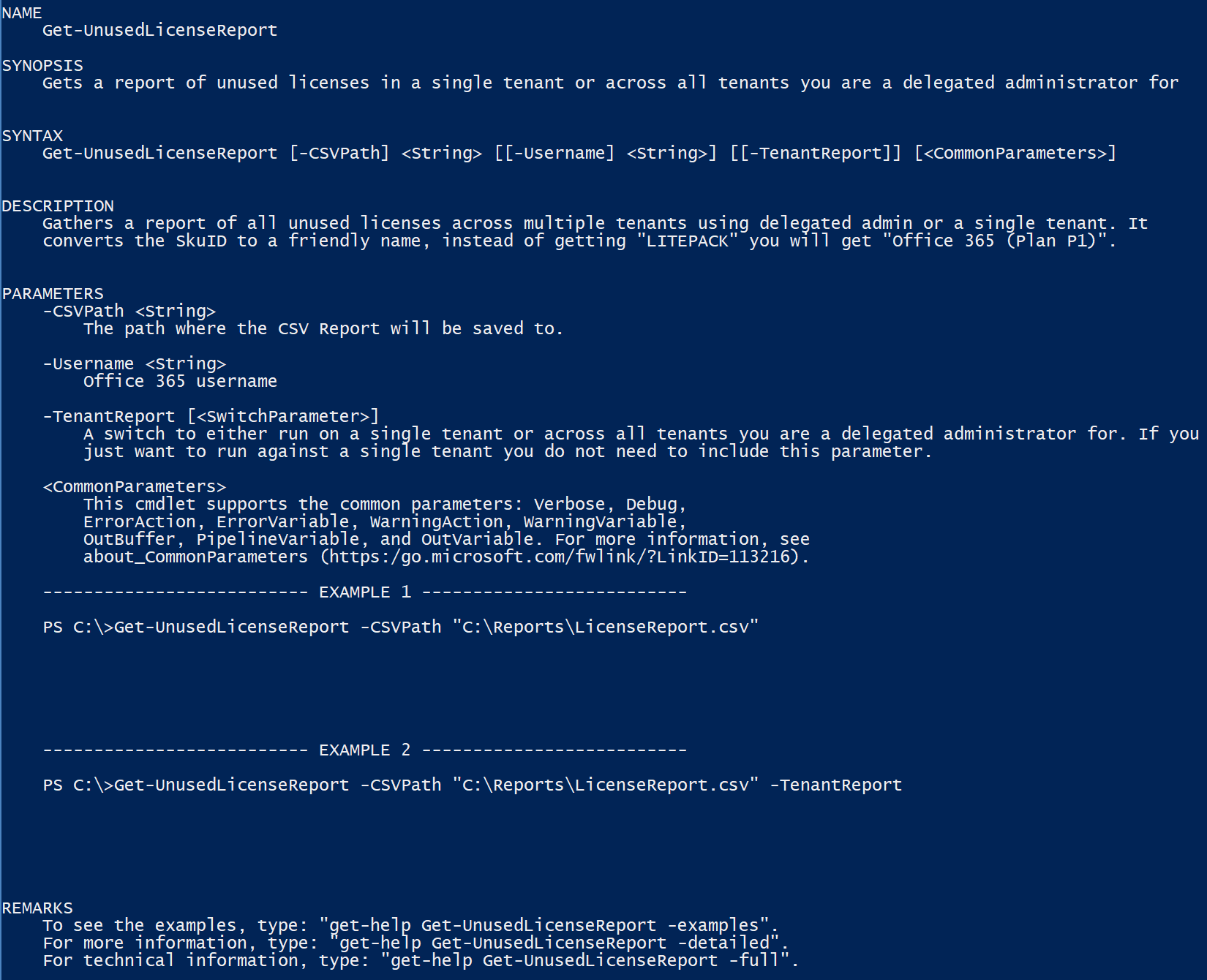 Parameters
The script has 3 parameters with only 1 being mandatory.
CSVPath: The path where the csv report will be saved to; required.
Username: The Office 365 username; not required.
TenantReport: Switch parameter, Include this if you want to run against all tenants instead of a single tenant; not required.
Display
The shell will display the licenses for each tenant and the unused license count. If it's green then there are 0 unused licenses and there is no more steps involved. If there are more than 0 unused licenses it will be displayed in magenta and will be exported to the result csv file. If the hash table cannot look up a SKU to a friendly name it will display red and export the SKU name to the result csv file.


CSV Report
The CSV report will include the company name, friendly license name, active units, warning units, consumed units, and unused units.

Script
1

2

3

4

5

6

7

8

9

10

11

12

13

14

15

16

17

18

19

20

21

22

23

24

25

26

27

28

29

30

31

32

33

34

35

36

37

38

39

40

41

42

43

44

45

46

47

48

49

50

51

52

53

54

55

56

57

58

59

60

61

62

63

64

65

66

67

68

69

70

71

72

73

74

75

76

77

78

79

80

81

82

83

84

85

86

87

88

89

90

91

92

93

94

95

96

97

98

99

100

101

102

103

104

105

106

107

108

109

110

111

112

113

114

115

116

117

118

119

120

121

122

123

124

125

126

127

128

129

130

131

132

133

134

135

136

137

138

139

140

141

142

143

144

145

146

147

148

149

150

151

152

153

154

155

156

157

158

159

160

161

162

163

164

165

166

167

168

169

170

171

172

173

174

175

176

177

178

179

180

181

182

183

184

185

186

187

188

189

190

191

192

193

194

195

196

197

198

199

200

201

202

203

204

205

206

207

208

209

210

211

212

213

214

215

216

217

218

219

220

221

222

223

224

225

226

227

228

229

230

231

232

233

234

235

236

237

238

239

240

241

242

243

244

245

246

247

248

249

250

251

Function

Get-UnusedLicenseReport

Gets a report of unused licenses in a single tenant or across all tenants you are a delegated administrator for

Gathers a report of all unused licenses across multiple tenants using delegated admin or a single tenant. It converts the SkuID to a friendly name, instead of getting "LITEPACK" you will get "Office 365 (Plan P1)".

Get-UnusedLicenseReport -CSVPath "C:\Reports\LicenseReport.csv"

Get-UnusedLicenseReport -CSVPath "C:\Reports\LicenseReport.csv" -TenantReport

The path where the CSV Report will be saved to.

A switch to either run on a single tenant or across all tenants you are a delegated administrator for. If you just want to run against a single tenant you do not need to include this parameter.

Website: https://www.thelazyadministrator.com

[

Parameter

(

Mandatory

=

$True

,

Position

=

1

,

ValueFromPipeline

=

$false

)

]

[

Parameter

(

Mandatory

=

$False

,

Position

=

2

,

ValueFromPipeline

=

$false

)

]

[

Parameter

(

Mandatory

=

$False

,

Position

=

3

,

ValueFromPipeline

=

$false

)

]

"O365_BUSINESS_ESSENTIALS"

=

"Office 365 Business Essentials"

"O365_BUSINESS_PREMIUM"

=

"Office 365 Business Premium"

"DESKLESSPACK"

=

"Office 365 (Plan K1)"

"DESKLESSWOFFPACK"

=

"Office 365 (Plan K2)"

"LITEPACK"

=

"Office 365 (Plan P1)"

"EXCHANGESTANDARD"

=

"Office 365 Exchange Online Only"

"STANDARDPACK"

=

"Enterprise Plan E1"

"STANDARDWOFFPACK"

=

"Office 365 (Plan E2)"

"ENTERPRISEPACK"

=

"Enterprise Plan E3"

"ENTERPRISEPACKLRG"

=

"Enterprise Plan E3"

"ENTERPRISEWITHSCAL"

=

"Enterprise Plan E4"

"STANDARDPACK_STUDENT"

=

"Office 365 (Plan A1) for Students"

"STANDARDWOFFPACKPACK_STUDENT"

=

"Office 365 (Plan A2) for Students"

"ENTERPRISEPACK_STUDENT"

=

"Office 365 (Plan A3) for Students"

"ENTERPRISEWITHSCAL_STUDENT"

=

"Office 365 (Plan A4) for Students"

"STANDARDPACK_FACULTY"

=

"Office 365 (Plan A1) for Faculty"

"STANDARDWOFFPACKPACK_FACULTY"

=

"Office 365 (Plan A2) for Faculty"

"ENTERPRISEPACK_FACULTY"

=

"Office 365 (Plan A3) for Faculty"

"ENTERPRISEWITHSCAL_FACULTY"

=

"Office 365 (Plan A4) for Faculty"

"ENTERPRISEPACK_B_PILOT"

=

"Office 365 (Enterprise Preview)"

"STANDARD_B_PILOT"

=

"Office 365 (Small Business Preview)"

"VISIOCLIENT"

=

"Visio Pro Online"

"POWER_BI_ADDON"

=

"Office 365 Power BI Addon"

"POWER_BI_INDIVIDUAL_USE"

=

"Power BI Individual User"

"POWER_BI_STANDALONE"

=

"Power BI Stand Alone"

"POWER_BI_STANDARD"

=

"Power-BI Standard"

"PROJECTESSENTIALS"

=

"Project Lite"

"PROJECTCLIENT"

=

"Project Professional"

"PROJECTONLINE_PLAN_1"

=

"Project Online"

"PROJECTONLINE_PLAN_2"

=

"Project Online and PRO"

"ProjectPremium"

=

"Project Online Premium"

"ECAL_SERVICES"

=

"ECAL"

"EMS"

=

"Enterprise Mobility Suite"

"RIGHTSMANAGEMENT_ADHOC"

=

"Windows Azure Rights Management"

"MCOMEETADV"

=

"PSTN conferencing"

"SHAREPOINTSTORAGE"

=

"SharePoint storage"

"PLANNERSTANDALONE"

=

"Planner Standalone"

"CRMIUR"

=

"CMRIUR"

"BI_AZURE_P1"

=

"Power BI Reporting and Analytics"

"INTUNE_A"

=

"Windows Intune Plan A"

"PROJECTWORKMANAGEMENT"

=

"Office 365 Planner Preview"

"ATP_ENTERPRISE"

=

"Exchange Online Advanced Threat Protection"

"EQUIVIO_ANALYTICS"

=

"Office 365 Advanced eDiscovery"

"AAD_BASIC"

=

"Azure Active Directory Basic"

"RMS_S_ENTERPRISE"

=

"Azure Active Directory Rights Management"

"AAD_PREMIUM"

=

"Azure Active Directory Premium"

"MFA_PREMIUM"

=

"Azure Multi-Factor Authentication"

"STANDARDPACK_GOV"

=

"Microsoft Office 365 (Plan G1) for Government"

"STANDARDWOFFPACK_GOV"

=

"Microsoft Office 365 (Plan G2) for Government"

"ENTERPRISEPACK_GOV"

=

"Microsoft Office 365 (Plan G3) for Government"

"ENTERPRISEWITHSCAL_GOV"

=

"Microsoft Office 365 (Plan G4) for Government"

"DESKLESSPACK_GOV"

=

"Microsoft Office 365 (Plan K1) for Government"

"ESKLESSWOFFPACK_GOV"

=

"Microsoft Office 365 (Plan K2) for Government"

"EXCHANGESTANDARD_GOV"

=

"Microsoft Office 365 Exchange Online (Plan 1) only for Government"

"EXCHANGEENTERPRISE_GOV"

=

"Microsoft Office 365 Exchange Online (Plan 2) only for Government"

"SHAREPOINTDESKLESS_GOV"

=

"SharePoint Online Kiosk"

"EXCHANGE_S_DESKLESS_GOV"

=

"Exchange Kiosk"

"RMS_S_ENTERPRISE_GOV"

=

"Windows Azure Active Directory Rights Management"

"OFFICESUBSCRIPTION_GOV"

=

"Office ProPlus"

"MCOSTANDARD_GOV"

=

"Lync Plan 2G"

"SHAREPOINTWAC_GOV"

=

"Office Online for Government"

"SHAREPOINTENTERPRISE_GOV"

=

"SharePoint Plan 2G"

"EXCHANGE_S_ENTERPRISE_GOV"

=

"Exchange Plan 2G"

"EXCHANGE_S_ARCHIVE_ADDON_GOV"

=

"Exchange Online Archiving"

"EXCHANGE_S_DESKLESS"

=

"Exchange Online Kiosk"

"SHAREPOINTDESKLESS"

=

"SharePoint Online Kiosk"

"SHAREPOINTWAC"

=

"Office Online"

"YAMMER_ENTERPRISE"

=

"Yammer for the Starship Enterprise"

"EXCHANGE_L_STANDARD"

=

"Exchange Online (Plan 1)"

"MCOLITE"

=

"Lync Online (Plan 1)"

"SHAREPOINTLITE"

=

"SharePoint Online (Plan 1)"

"OFFICE_PRO_PLUS_SUBSCRIPTION_SMBIZ"

=

"Office ProPlus"

"EXCHANGE_S_STANDARD_MIDMARKET"

=

"Exchange Online (Plan 1)"

"MCOSTANDARD_MIDMARKET"

=

"Lync Online (Plan 1)"

"SHAREPOINTENTERPRISE_MIDMARKET"

=

"SharePoint Online (Plan 1)"

"OFFICESUBSCRIPTION"

=

"Office ProPlus"

"YAMMER_MIDSIZE"

=

"Yammer"

"DYN365_ENTERPRISE_PLAN1"

=

"Dynamics 365 Customer Engagement Plan Enterprise Edition"

"ENTERPRISEPREMIUM_NOPSTNCONF"

=

"Enterprise E5 (without Audio Conferencing)"

"ENTERPRISEPREMIUM"

=

"Enterprise E5 (with Audio Conferencing)"

"MCOSTANDARD"

=

"Skype for Business Online Standalone Plan 2"

"PROJECT_MADEIRA_PREVIEW_IW_SKU"

=

"Dynamics 365 for Financials for IWs"

"STANDARDWOFFPACK_IW_STUDENT"

=

"Office 365 Education for Students"

"STANDARDWOFFPACK_IW_FACULTY"

=

"Office 365 Education for Faculty"

"EOP_ENTERPRISE_FACULTY"

=

"Exchange Online Protection for Faculty"

"EXCHANGESTANDARD_STUDENT"

=

"Exchange Online (Plan 1) for Students"

"OFFICESUBSCRIPTION_STUDENT"

=

"Office ProPlus Student Benefit"

"STANDARDWOFFPACK_FACULTY"

=

"Office 365 Education E1 for Faculty"

"STANDARDWOFFPACK_STUDENT"

=

"Microsoft Office 365 (Plan A2) for Students"

"DYN365_FINANCIALS_BUSINESS_SKU"

=

"Dynamics 365 for Financials Business Edition"

"DYN365_FINANCIALS_TEAM_MEMBERS_SKU"

=

"Dynamics 365 for Team Members Business Edition"

"FLOW_FREE"

=

"Microsoft Flow Free"

"POWER_BI_PRO"

=

"Power BI Pro"

"O365_BUSINESS"

=

"Office 365 Business"

"DYN365_ENTERPRISE_SALES"

=

"Dynamics Office 365 Enterprise Sales"

"RIGHTSMANAGEMENT"

=

"Rights Management"

"PROJECTPROFESSIONAL"

=

"Project Professional"

"VISIOONLINE_PLAN1"

=

"Visio Online Plan 1"

"EXCHANGEENTERPRISE"

=

"Exchange Online Plan 2"

"DYN365_ENTERPRISE_P1_IW"

=

"Dynamics 365 P1 Trial for Information Workers"

"DYN365_ENTERPRISE_TEAM_MEMBERS"

=

"Dynamics 365 For Team Members Enterprise Edition"

"CRMSTANDARD"

=

"Microsoft Dynamics CRM Online Professional"

"EXCHANGEARCHIVE_ADDON"

=

"Exchange Online Archiving For Exchange Online"

"EXCHANGEDESKLESS"

=

"Exchange Online Kiosk"

"SPZA_IW"

=

"App Connect"

"WINDOWS_STORE"

=

"Windows Store for Business"

"MCOEV"

=

"Microsoft Phone System"

"VIDEO_INTEROP"

=

"Polycom Skype Meeting Video Interop for Skype for Business"

"SPE_E5"

=

"Microsoft 365 E5"

"SPE_E3"

=

"Microsoft 365 E3"

"ATA"

=

"Advanced Threat Analytics"

"MCOPSTN2"

=

"Domestic and International Calling Plan"

"FLOW_P1"

=

"Microsoft Flow Plan 1"

"FLOW_P2"

=

"Microsoft Flow Plan 2"

$Cred

=

Get-Credential

-UserName

$Username

-Message

"Please enter your Office 365 credentials"

Connect-MSOLService

-Credential

$Cred

$msolAccountSkuCsv

=

$CSVPath

If

(

$PSBoundParameters

.

ContainsKey

(

'TenantReport'

)

)

Write-Host

"Getting unused license report for all tenants..."

-ForegroundColor

Yellow

$clients

=

Get-MsolPartnerContract

-All

$licenses

=

Get-MsolAccountSku

ForEach

(

$client

in

$clients

)

$licenses

=

Get-MsolAccountSku

-TenantId

$client

.

TenantId

ForEach

(

$license

in

$licenses

)

$UnusedUnits

=

$license

.

ActiveUnits

-

$license

.

ConsumedUnits

$LicenseItem

=

$License

.

AccountSkuId

-split

":"

|

Select-Object

-Last

1

$LicenseFallBackName

=

$License

.

AccountSkuId

$TextLic

=

$Sku

.

Item

(

"$LicenseItem"

)

$ClientName

=

$client

.

Name

Write-Host

"Error: The Hash Table has no match for $LicenseItem for $ClientName!"

-ForegroundColor

Red

Write-Host

"$LicenseFallBackName for $ClientName has $UnusedUnits unused licenses"

-ForegroundColor

Magenta

$license

|

Select-Object

@

{

Name

=

"Client"

;

Expression

=

{

"$ClientName"

}

}

,

@

{

Name

=

"License"

;

Expression

=

{

"$LicenseFallBackName"

}

}

,

ActiveUnits

,

WarningUnits

,

ConsumedUnits

,

@

{

Name

=

"Unused"

;

Expression

=

{

"$UnusedUnits"

}

}

|

Export-Csv

-Path

$msolAccountSkuCsv

-Append

-NoTypeInformation

Write-Host

"$LicenseFallBackName for $ClientName has $UnusedUnits unused licenses"

-ForegroundColor

Green

Write-Host

"$TextLic for $ClientName has $UnusedUnits unused licenses"

-ForegroundColor

Magenta

$license

|

Select-Object

@

{

Name

=

"Client"

;

Expression

=

{

"$ClientName"

}

}

,

@

{

Name

=

"License"

;

Expression

=

{

"$TextLic"

}

}

,

ActiveUnits

,

WarningUnits

,

ConsumedUnits

,

@

{

Name

=

"Unused"

;

Expression

=

{

"$UnusedUnits"

}

}

|

Export-Csv

-Path

$msolAccountSkuCsv

-Append

-NoTypeInformation

Write-Host

"$TextLic for $ClientName has $UnusedUnits unused licenses"

-ForegroundColor

Green

Write-Host

"Getting unused license report..."

-ForegroundColor

Yellow

$licenses

=

Get-MsolAccountSku

ForEach

(

$license

in

$licenses

)

$UnusedUnits

=

$license

.

ActiveUnits

-

$license

.

ConsumedUnits

$LicenseItem

=

$License

.

AccountSkuId

-split

":"

|

Select-Object

-Last

1

$LicenseFallBackName

=

$License

.

AccountSkuId

$TextLic

=

$Sku

.

Item

(

"$LicenseItem"

)

Write-Host

"Error: The Hash Table has no match for $LicenseItem!"

-ForegroundColor

Red

Write-Host

"$LicenseFallBackName has $UnusedUnits unused licenses"

-ForegroundColor

Magenta

$license

|

Select-Object

@

{

Name

=

"License"

;

Expression

=

{

"$LicenseFallBackName"

}

}

,

ActiveUnits

,

WarningUnits

,

ConsumedUnits

,

@

{

Name

=

"Unused"

;

Expression

=

{

"$UnusedUnits"

}

}

|

Export-Csv

-Path

$msolAccountSkuCsv

-Append

-NoTypeInformation

Write-Host

"$LicenseFallBackName has $UnusedUnits unused licenses"

-ForegroundColor

Green

Write-Host

"$TextLic has $UnusedUnits unused licenses"

-ForegroundColor

Magenta

$license

|

Select-Object

@

{

Name

=

"License"

;

Expression

=

{

"$TextLic"

}

}

,

ActiveUnits

,

WarningUnits

,

ConsumedUnits

,

@

{

Name

=

"Unused"

;

Expression

=

{

"$UnusedUnits"

}

}

|

Export-Csv

-Path

$msolAccountSkuCsv

-Append

-NoTypeInformation

Write-Host

"$TextLic has $UnusedUnits unused licenses"

-ForegroundColor

Green